Dog Services
Dog waste removal, pet transport, dog grooming, animal website design, & other pet services listings.
Pet Dog Waste Removal Services
Offers dog and pet waste removal services to clients on the main line of Philadelphia including Montgomery, Delaware, and Chester County PA.
---
Paws N Claws Pet Transport
Door to door pet ground transport service. We offer pet transport, dog shipping, cat shipping, and pet shipping.
---
Dog Waste Removal Service
Doodie Fresh, LLC is the recognized leader in dog waste cleanup service for the Palos Verdes Peninsula and San Pedro. Busy individuals rejoice knowing a company is now available to clean up after your dog. Affordable plans start at only $9/visit.
---
Happy Dog Days
Happy Dog Days offers a high quality range of services which will meet all the needs of owning and caring for your dog. I personally offer five services:

Dog Training
Dog Walking
Dog Taxi
Microchipping
I.D. Dog Tags

The training is done with a friendly manner and reward based. Happy Dog Days website also provides many other useful services: Find a dog, if you are looking for a particular breed of dog or maybe a rescue dog, you might find your next best friend on this site. A lost dog section so you can report lost, found and reunited dogs. Advertisement i.e., dog insurance, vets and groomers etc. Dog data, such as A-Z of dog breeds and health care etc and a shop containing your day to day needs. Our site is also a very social website with a forum, gallery, and an events section. I hope the honest caring nature of Happy Dog Days Shines throughout the website and hope both the website and myself can be of help to you and your dog now and in the future.
---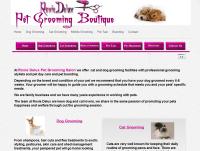 Roxie Delux Dog Grooming
Luxury pet grooming salon offering cat and dog grooming facilities with professional grooming stylists and pet day care, boarding.
---
Waggie Dogs Grooming
Professional, caring, one to one grooming. Grooming, bathing, clipping, styling, nails & ears. Evening & weekend appointments available. Free puppy mini-grooms. South Normanton, Alfreton, Ripley, Sutton, Kirkby, Blackwell, Shirland, and Stonebroom.
---
Websites for Animals
Websites for animals especially dog breeders and farms.
---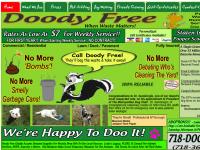 Doody Free
Doody Free provides dog waste clean up and bare patch lawn seeding. Owned & operated by a lifelong animal lover & CACC volunteer. Fully insured, professional & reliable. Serving Staten Island since 2006. At Doody Free, "We're Happy To Doo It!"
---
Pet Video Verify
Pet Video Verify uses video identification system for lost and found pets, you can also keep track of your pets medical records, and sell your pet items.
---
Dog Walking Services
Walkies is a professional Pet Care Service providing best overnight house sitting and dog walking services throughout Philadelphia.
---
Salt Lake House Cleaning
House Cleaning Services in Salt Lake. We also offer chemical free and green cleaning for pet safe homes.
---